OS Terrain® height data in DXF or DWG
---
Step 1: Select Location
Step 2: Alter Map Area
Step 3: Options & Buy
---
Step 1
Product Information
DTM data in DXF or DWG
Height information is an important tool supporting many of Ordnance Survey's customers analytical and monitoring application such as flood risk assessment, transport infrastructure planning, coastal protection, environmental impact assessment, utilities asset management, forest estate management and security and defence planning. OS Terrain 5 can be used with a wide range of geographic data and software tools making it suitable for 3D modelling applications.
0.5m - coverage 100m to 5km = £20.00 + vat
1m - coverage 100m to 5km = £17.50 + vat
2m - coverage 100m to 5km = £15.00 + vat
---
Step 3
Select Licence Term:
---
DTM Cad Data with optional Contours
OS Terrain®5 (DTM) in dxf or dwg
The OS Terrain product provides the basis for detailed analysis to inform you about real and potential impacts on your customers. This height data can be supplied in both grid and contours and is maintained as part of the same integrated revision process as Ordnance Surveys large scale data products which ensures the product is consistently maintained and offers unrivalled content currency. Particular attention has been given to the modelling of significant landscape features such as roads, railways, quarries and lakes...

Note that we use a non-linear technique for interpolating the height values between the defined spot heights, this means you end up with nicely curved contours. OS Terrain® 5 is a height data product created as a digital terrain model (DTM) representing the bare surface of the whole of Great Britain. Ideal for Flood Risk Analysis as well as 3D modelling.



Why is OS Terrain 5 better than other height products?
Customers who are using other Ordnance Survey data products will not find another height product in the market that offers this level of consistency, coverage and currency with Ordnance Surveys topographic features. It is more than a product on its own, but a fully integrated part of the Ordnance Survey data stack:
Both grid and contours are available for one price;
Major roads, rail and large water bodies have been modelled with superior accuracy for better results in modelling applications;
OS Terrain 5 will be updated on a quarterly basis with both COU and full supply options, using the latest integrated content; and
Revision frequency is planned to take place on a 3-5 year rolling cycle synchronised with OS large-scale data.
Is there any third party content, e.g. lidar?
No, the source data was captured by Ordnance Survey Integrated Capture Programme suppliers and is wholly Ordnance Survey intellectual property.
Mean high and low water representation in grid
Due to local tidal conditions, the height of the mean high and low water mark varies continuously around the coast of Britain. The mean high and low water lines have been have been derived from OS large-scale mapping and assigned constant height values, based on the average for each tile. This average value has been determined from local tide tables. The mean high and low water lines were used as heighted breaklines when creating the grid to ensure the grid product is consistent with the contour product. This means that there may be a small discrete step in the height of tidal water between adjacent tiles. For areas of permanent tidal water the height of the mean low water has been extended out to the tile edge to ensure that the tile is complete. Heights in the foreshore area are interpolated between the mean high and low water heights.
Product Details
Scalable within CAD / GIS
0.5, 1 or 2m Contours option
Downloads / Samples
Suggested uses
Security and Defence Planning
Licence Information
1, 2 and 3 years available
Licence Number supplied with each purchase
---
Alternative Products

Ordnance Survey Large Scale CAD (layered) data.

OS MasterMap Topography Layer in DXF or DWG with optional contours at 0.5m, 1m or 2m intervals.
OS 1:25 000 Scale Colour Raster is the digital form of Ordnance Surveys popular OS Explorer Map. The detailed representation of the countryside in a way that is easy to interpret makes it particularly suited for displaying environmental applications. 10km x 10km Tiles.

1:10 000 Scale Raster provides a backdrop map product at a mid-scale on which you can overlay your information, to provide a geographic context for your data. Available in 5km x 5km and in Backdrop Colour (washout), Black and White or Colour.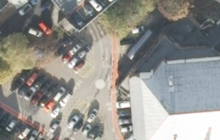 OS MasterMap® Imagery Layer yields compelling information that you cannot get from mapping alone, such as road markings, habitats, land use, vegetation, pipes and cables, utilities infrastructure, roof types, and building access. 1km x 1km Tiles suppled with the relevent .tfw and .xml file/s.
---